Kelvin Kantanka Agyapong, who happens to be the son of Ghanaian politician Kennedy Agyapong an MP Adwoa Safo has reportedly graduated from a United States school.
Kelvin Kantanka Agyapong graduated from the Applewild School, located in Fitchburg, Massachusetts.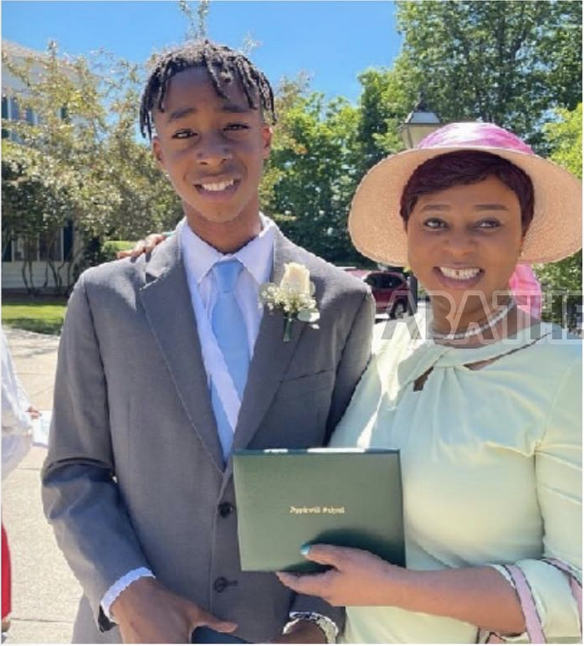 According to the details available to occupygh.com, Kelvin graduated with a diploma for his learning.
A photo of Kelvin with his mother, Adwoa Safo has since surfaced online.
A snap of the young grad's certificate has equally popped up.
Check out the screenshot below or visit OccupyGh.com for more related stories.
Source: OccupyGh.com
Bawumia Cannot Win Power – Dr. Nyaho Nyaho-Tamakloe
Bawumia Cannot Win Power – Dr. Nyaho Nyaho-Tamakloe
Founding member of the New Patriotic Party (NPP), Dr. Nyaho Nyaho-Tamakloe, has stated that Vice President, Dr. Mahamudu Bawumia, will not be able to secure the mandate of party delegates to become flagbearer for the 2024 general elections.
According to him, the structures within the party will militate against the reported interest of the Vice President to contest for flagbearer in the governing party.
Commenting on the Alan/Bawumia race in an interview on TV3's 'New Day' morning show, the statesman said even though he vouched for the Vice President to become a running mate to President Nana Akufo-Addo, he would have preferred if he was independent of him.
He explained that the Vice President has been a praise singer of the president during his political career.
"Bawumia…I did an interview. It was a foreign magazine. I will find out if I have a copy and I will show it to you where I made plain that by the structure of our party, Bawumia cannot come to power.
"Bawumia is a fine gentleman. If Bawumia could have had that independent mind and strength and not just always praising what the president has done or has not done, I will have looked at him differently.
"I know Bawumia very well. Indeed, I was one of his backbones when he was elected as [running mate] some years ago when Akufo-Addo told me that…in Akufo-Addo's own house, he called me aside and said I should support Bawumia because people wanted him to change Bawumia.
"Myself, late Aliu Mahama we gave Bawumia the best protection. We went to his place in Bimbilla…all the way there…
Mamprusi area…we traveled with them all over those places.
"Even Accra here until finally, I was with Akufo-Addo when we presented him as the running mate to Nana Addo to the leaders of the political party," he told host Johnnie Hughes on Wednesday, June 22.
The NPP is yet to announce the presidential primary date.
The Vice President, Dr. Mahamudu Bawumia and Trade and Industry Minister Alan Kyerematen are reportedly lacing up their boots to slug it out.
Other names which has popped up include Dr. Owusu Afriyie Akoto (Agric Minister), Boakye Agyarko (Former Energy Minister), Kennedy Agyapong (Assin Central MP), and Joe Ghartey, former Railways Minister.
Subscribe to our website, and receive more viral, educational, and exclusive news
What are your thoughts on this piece? We'd love to hear from you, so please leave a remark below.
For additional information, visit As Join us on your favorite social media platform!
We are present on every social media network. Follow us on Facebook for the latest news: Click here to follow us.
Source: Joyprimegh.com
High Court Summons Five Witnesses For Opuni
The High Court in Accra has summoned five witnesses for Dr Stephen Kwabena Opuni, the former Chief Executive Officer of COCOBOD who is standing trial and two others.
The court made the order through a subpoena to be served on the personalities that, Dr Stephen Kwabena Opuni sought to rely on for his defence.
The court presided over by Justice Clemence Honyenuga made the order after lawyers of Dr Opuni urged the court to issue subpoenas to those five witnesses.
Relying on Articles 19(2)(g)(h) of the 1992 Constitution, counsel moved two applications – subpoenas and for a witness to testify via video due to health concerns.
Moving the application for consideration under 19(2)(g), counsel prayed that Reginald Aduakwa, Bank manager assigned to first accused at Ecobank, who has now moved to Stanchart be subpoenaed.
Counsel also requested a subpoena to be directed at Samuel Amponsah, who was the acting Head of Cocoa Health Extension Division (CHED).
According to counsel, Mr Amponsah will give evidence that farmers in the Western North Region required Lothivite fertilizer.
Also, Opuni want, Peter Okyere Boateng, the Deputy Executive Director of CHED in charge of monitoring and evaluation to be summoned.
According counsel, he was directly in charge when the officials wrote the CHED report on the evaluation of fertilizers including Lithovit which report was given to them by prosecution.
Lawyer Codjoe said the said report talks about the effect of Lithovit on cocoa.
Also, Dr Gilbert Anin Kwarpong, who was the Executive Director of Cocoa Research Institute of Ghana (CRIG) in 2015/6 and 2016/17 Cocoa seasons was also mentioned.
Counsel explained that, it was during his time that COCOBOD through CRIG renewed the certificate for Lithovit fertilizer.
"We also want a Subpoena to issue at Atta Kwasi, a farmer, who used Lithovit and whose farm is in the Arong ahafo area of Ghana," he prayed.
Video evidence
Under 19(2)(h) counsel prayed for a Twi Interpreter to be made available for some of the witnesses who will give evidence in twi.
For, Ambassador Daniel Ohene Agyekum, who was the former Board chair, resident in kumasi, counsel said, he has a health challenge by way of disk spinal issue, and therefore prayed that, his evidence be taken remotely by video conference.
According to counsel, although he had no problem with his voice, it will be problematic for him to be physically present in court.
Ambassador Agyekum was the board chair during the tenure of Dr Opuni and "was until the procurement act amended sometime in 2016, the chairman of entity tender committee."
He told the court that, the purchase of Lithovit was approved by the entity tender committee and he is therefore also required to give evidence.
The prosecution led by Mrs Evelyn Keelson, Chief State Attorney did not oppose.
Akufo Addo Is Very Weak In Bed – Serwaa Broni (+ Video
Akufo Addo Is Very Weak In Bed – Serwaa Broni (+ Video
Following her interview with Kevin Taylor, the problem regarding Evelyn Aidoo, also known as Serwaa Broni, a Ghanaian living in Canada, and President Akufo-Addo has resurfaced.
Serwaa Broni made some surprising revelations concerning President of the Republic of Ghana, Nana Addo Dankwa Akufo-Addo, in a recent interview with Kevin Taylor on Loud Silence Media.
Serwaa Broni and President Akufo-Addo made headlines a few months ago after the former posted images of herself and the President on social media, claiming that she is his side chic.
The mother of five has now spoken up about how she met the President and what happened during their meeting.
Serwaa Broni revealed that she was dating the president in an exclusive interview with Kevin, and that her allegations that she is on a mission to blackmail him are incorrect.
When questioned if she had s3xual affairs with President Akufo-Addo, she said that she had, and that Nana Akufo-Addo was weak in bed and couldn't please her.
Check the video below

Subscribe to our website, and receive more viral, educational, and exclusive news
What are your thoughts on this piece? We'd love to hear from you, so please leave a remark below.
Source: Joyprimegh.com